Paper Pumpkin - Paper Crafting Kits in the Mail
With Paper Pumpkin, subscribers are provided with everything they need to explore their creativity and discover new ways to craft.
As we navigate a "new normal" in today's world, there's plenty of opportunity to papercraft! And, more importantly, there's no better time than now to create something that'll show the essential people in your life just how awesome you think they are.
Lately, it's become especially clear who the everyday heroes are—they've always surrounded us! Teachers, doctors, hairdressers, nurses, delivery workers, cashiers, and even our friends, kids, and family members go above and beyond to enrich our lives. These people are truly the world's greatest at what they do!
Celebrate and appreciate the everyday heroes in your life with the August Paper Pumpkin Kit. The cards included in this kit are specifically designed for celebrating life's champions!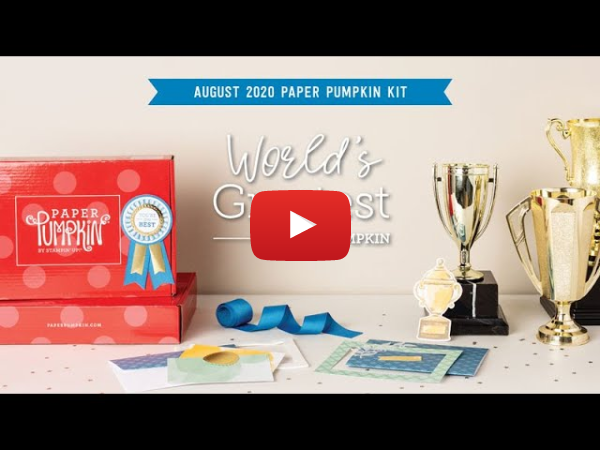 WATCH THIS VIDEO
What's Inside?
With a monthly Paper Pumpkin craft subscription box, you'll save time and money . . . and eventually build a collection of versatile Stampin' Up! crafting supplies.
Design
While the elements of the August kit can be used to show appreciation for anyone, the masculine card designs are perfect for the men in your life!
Project Type
9 Cards & Envelopes size: 4-1/4" x 5-1/2"
Coordinating Colors
Bumblebee, gold, Mint Macaron, Pacific Point, Soft Suede, Whisper White.
Happy Stamping!
Angela
Subscribe to Paper Pumpkin before the 10th.